According to the census return, in 1871 William Vickers (b.1825 in Brimington) was the Butler at Kildwick Hall, and his wife Sarah was the Housekeeper. Although the family had moved on by the time of the next census, perhaps to Eshton Hall (?), members of the Vickers family must have stayed in touch with the Brigg family at Kildwick Hall for several generations.
On 28th December 1914 John Jeremy Brigg, the son of Sir John Brigg, sent this message to Charles Vickers the grandson of William Vickers.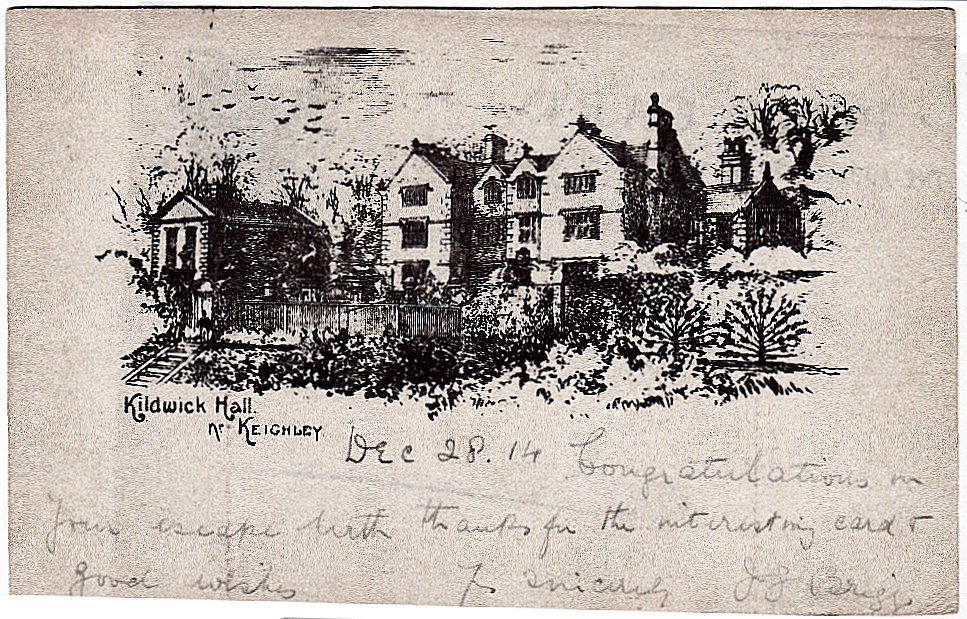 It reads:
Congratulations on your escape with thanks for the interesting card & good wishes
Yrs sincerely J.J.Brigg
The word "escape" was intriguing and an exchange of emails with Doug Aylward, the grandson of the recipient, revealed a connection with a Yorkshire WW1 tragedy.
In 1914 the Vickers family were living in Hartlepool when, on December 16th, the town – along with Scarborough and Whitby – was bombarded by a squadron of ships from the German Navy. The bombardment caused significant damage to the town and resulted in 130 civilian deaths with hundreds more injured. (See When Germany bombarded Hartlepool for more details.)
It seems that Charles Vickers did indeed have a lucky "escape".
Posted 05/04/2020.
With thanks to Doug Aylward
http://www.farnhill.co.uk/volunteers/wp-content/uploads/2017/01/project-logo2.jpg
236
236
admin
http://www.farnhill.co.uk/volunteers/wp-content/uploads/2017/06/Logo-02.png
admin
2020-04-05 10:27:03
2020-04-05 11:01:15
A message from Kildwick Hall – December 1914